We understand the concern that parents have regarding the safety of their child while outside. We have two very large state of the art playgrounds, one for infant and toddler department, and another for our older children.
Both of these playgrounds are completely surrounded by a gated fence. All playground equipment is surrounded completely by State certified safety zone. All playgrounds meet State and National safety guidelines. All of our children have plenty of space to develop physically while outside. Our infant and toddler playground is very large with a park like setting mostly under mature trees.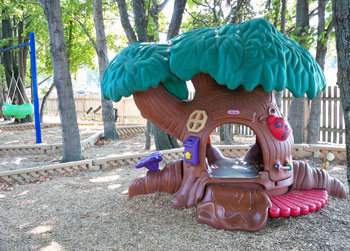 Daily Inspections
Both playgrounds are inspected daily by the staff. The administration also checks the playgrounds to insure that all safety standards are maintained at all times. Checking of all equipment, fencing, and area are included.
All children are offered a drink of water after outside play. No child has outside time unless weather is favorable while following state weather guidlines.