Here at Heartland Hall we understand the busy life styles of being a parent and someone who has to juggle a full time career. That is why our staff partners with the parents, to help achieve a balance of home life and school life for your little one. Our infant day care staff is here to help ease your mind that your baby is receiving the best care possible in our nurturing classrooms. Heartland Hall's infant day care department has four classrooms with a ratio of no more than eight infants to two caregivers.
Our staff is here to answer any questions that may arise with the care of your infant. They are also here to answer your phone calls at any time of the business day. Our infant daycare staff interaction with parents will always be constant and involved.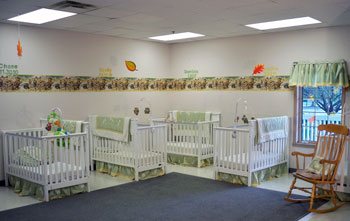 Your baby's learning has already began from their first moments of life. That is why at Heartland Hall our staff will do monthly developmental assessments on your infant. The assessments are done to help us as well as the parents to see if your infant is on target. Once the assessments are completed the infant care staff develops a monthly lesson plan to show the goals they will be working on with your child.
Core Infant Daycare Concentrations
Physical development
Music
Sign language
Verbal Development
Social Development
Communication
Communication will be daily as parents arrive, depart, and throughout the day. We encourage the parents to call the caregivers whenever possible. Parents will receive a daily sheet showing their child's activities each day. Every month you will receive an assessment showing your child's developmental accomplishments. We hope to reassure your child's development is on target or even offer suggestions to try at home. The assessment will also show what the staff will be working on the next month.
Cleanliness
The air filtration system for the infant day care department is completely separate from the rest of the building. As a result, this help's protect your infant's developing immune systems from the older children's germs.
Language Skills
Our preschool staff continues to talk all day to the babies using proper English in a soothing manner. All our Staff is all certified in Baby Signs, The Original Sign Language program for Babies. The staff exposes and teaches all babies sign language as part of their daily learning experience. Also, by using the Baby Signs your baby is able to communicate their wants, needs, and observations in a way that you can understand. Papers are provided to the parents showing the sign language that the staff is teaching so the parents may also participate in this program. The staff sings songs and reads stories to encourage language.
Baby Time
All babies spend a great amount of individual time with the staff each day. Bottles are given to the infant while the caregiver is holding the baby. During this time smiles, conversations, and love is exchanged. Our infant caregivers understand that interaction with all their babies creates a learning environment. As the babies develop they will interact with the other children during activities on the floor, given the child (his or her) social skills.
Child Care Security
See the many ways that Heartland Hall Child Development Center has to help ensure the security and safety of your children while in our care.
Schedule A Tour
Click To Call Us (317) 815-4000
Come see why parents from Carmel, Westfield, Zionsville, Fishers and Indianapolis love Heartland Hall Child Development Center. Contact us here to arrange your tour.