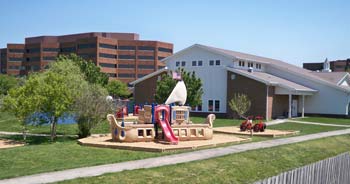 These are a few parent testimonials of mothers and fathers who bring their children to Heartland Hall Child Development Center.
Parent Testimonials:
"Heartland Hall has been amazing with our son. The staff is very much a family and provide a caring and loving environment. They take an active role in his development and we know he will be more than ready when he moves on to bigger things. Thank You!"
Michael and Erin H.
Westfield Indiana
"I love the opportunities Heartland Hall presents to our kids. Thank you so much for everyone's hard work and efforts to make HH such a great learning environment for all our kids!"
Ginalee N.
Carmel, Indiana
"I am a mother of three and have trusted Heartland Hall with my babies since they were each 12 weeks old. Dropping them off is hard, but when I see how much they love their teachers and hear about their fun filled day, I'm reminded I made the right decision. The teachers have given our family a great gift in that my husband and I can focus on our jobs during the day and know our babies are getting the attention and love along with learning life skills like sharing and listening. I would recommend Heartland Hall to my family and closets friends."
Jenna S.
Carmel, Indiana
"We adore Heartland Hall. For the past four years my daughter has been in "school" at HH. She has been loved, hugged, encouraged and excellently cared for each day. She jumps out of the car and bounces in to class in the morning and is always smiling when I return and ready to tell me about her day. My daughter has had numerous medical concerns that, at times, required daily attention and therapy. The staff and teachers always took great care of her, never made her feel different, and always kept me informed. Together with the teachers and staff at Heartland Hall, I have seen my daughter grow in to an inquisitive, confident, joy-filled young girl."
Amy & David B.
Carmel, Indiana
"We have never referred to Heartland Hall as "daycare", for our children it's their second home. Heartland Hall is the best peace of mind a parent can have. We know from the time we drop our children off in the morning until we pick up in the evening they will be safe stimulated and most importantly loved by all of the staff members.
After the birth of our first son, Heartland Hall's staff provided us great advice based on their education and longevity within the child care environment. We have never heard of child care providers going above and beyond to meet each individual child's needs as we have experienced at Heartland Hall. As we progressed out of the infant stages, we have continued to be impressed with the curriculum and amazed with everything our son has learned. We feel extremely fortunate our children are able to be part of the Heartland Hall Family."
Joseph & Jamie E.
Zionsville, Indiana
"From the very first visit until this very day, Heartland Hall has impressed us with its superior facilities, dedicated staff, and the commitment to excellence of every Heartland Hall employee. From a parent's perspective, we are amazed with t he academic and social development of our boys. From our sons' perspective, they always relish in the caring, nurturing and positive environment Heartland Hall provides on a daily basis. It's always encouraging to see the big smiles on our children's faces every day when they enter and leave Heartland Hall. We are extremely fortunate to be part of the Heartland Hall Family and would highly recommend Heartland Hall to any parent."
Seth & Tracy A.
Westfield, Indiana
"Heartland Hall is a top notch development center for infants and young children. We have been Heartland Hall parents for nearly 4 years and can't imagine leaving our children anywhere else. It's obvious the Heartland Hall staff love our children like they love their own children and make sure to communicate daily events so we don't feel like we are missing missing out on their first big moments (and small). In our home we like to call it "school" versus "day care" because Ms. Sally and her staff offer so much more than just watching our children while we are at work each day. The staff helped transition both of our children from bottles to baby food to "people food" and sippy cups by the time they were 9 months and were instrumental in helping us potty train our daughter by age 2! We've also been impressed with how they have helped learn sign language, learn to speak, recognize colors, speak Spanish, begin counting and perform basic addition...the list goes on! Additional, Ms. Sally and her staff make it a priority to teach every child to be a decent human being by demonstrating how to use good manners, how to share and why sharing is important, and how to be respectful of one another.
Our children LOVE to go to school every day, and we enjoy taking them to Heartland Hall because we know they are well cared for and loved, learn exponentially and always have fun.
We have and will continue to refer Heartland Hall to our friends and family members in the area. There isn't a better place!"
Stacy & Matt S.
Carmel, Indiana
Please come see why parents from Carmel, Westfield, Indianapolis and Zionsville all love Heartland Hall Child Development Center. Contact us here to arrange your tour.