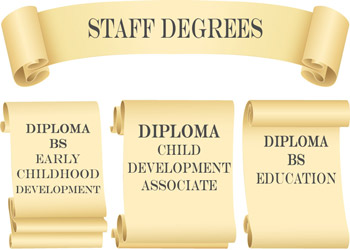 Staff
Education
Over 80% of our staff have four year degrees or their CDA. Their degrees are in education or early childhood. We have forty full time employees of which 60% have been here at least five years. We have many part time employees which round out and enhance teaching each day.
Training
The Heartland Hall staff trains all new hires. . All staff have CPR and Universal Precautions yearly, as well as First aid training every three years. In addition, all staff gets twelve hours of educational instruction every year.
Departmental Training
Our staff is additionally trained in the department that they work in. They are specialized in that specific age group. The staff members understand the physical (fine and gross), social/emotional, cognitive, creative, and language/communication development of the children in the department. This personalized training helps improve the quality of care for your child.
Our Health Standards
The staff is also trained in Heartland Hall health standards for the center and also for your child. Our administration staff is additionally trained in the use of a defibrillator. Read more about our day care health related policies here.
Baby Signs
Our Staff is all certified in Baby Signs in the American Sign Language. The staff not only exposes but teaches the children sign language beginning in infants through toddlers and even in two's. By this instruction, the babies can communicate with the parents and caregivers at a very early age.
Our Director's Story
I entered this field by accident 34 years ago. I was having trouble getting care for my three children and was having difficulty getting them to after-school activities. I was not enjoying my job downtown, so one day I just decided to quit work. At the time, I had no idea what I was going to do and my husband probably panicked hearing the news. I had to find a job, so I decided on a job that would allow me to be at home with my children. Read more of Sally's story...