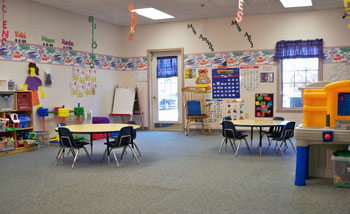 The child will begin to move throughout the center. The library, gym, computers, cafeteria, and the big playground are waiting to be experienced.
Core Concentrations
Small motor skills
Foreign language exposure
Cognitive development
Community Awareness
Language and literacy development
Written development materials
Animal network
Potty training
Self dress skills
Preschool Physical Development
Physical development for the child is encouraged during a physical education class each day. Each day different activities are completed to develop different gross motor skills. Running, climbing, jumping, pedaling are started. Small motor skills of catching and throwing are begun. Playground activities are also done twice a day. Tricycles are used during playground times also.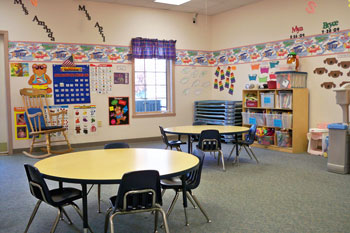 Learning
The children follow a definite schedule during this year to assure proper development. Circle time, art, coloring, and centers are all part of each day. The environment is created for the child to learn through interaction with adults, other children, and materials. A numeric workbook is implemented also. Activities change often during the day to stimulate the child's creativity and awareness. Foreign language is also introduced. Classroom routines and schedules will be followed. Story time is a great favorite of this age child. The child will be able to select the activity of choice from a variety prepared by the teachers including science, blocks, dramatic play, art, music, puzzles, and books for a learning experience. The teacher understands that the child learns from exploration and experimentation. Many activities will be used to encourage small motor skills.
Social Behavior
The child will interact with nine other children. Playing and sharing together are a major part of learning in our two year old department. Respecting the feelings of others and responding to their feelings are experienced. How the child responds and resolves conflicts are explored. Independence in each child is beginning to be expressed. The teachers will channel this for positive interaction. Of course development, abilities, and learning styles are expected and accepted. The teacher will use interactions and activities that are designed to develop the child's self- esteem and positive feelings.
Language
Language plays a very important part of the child's focus during year two. The vocabulary of the child will greatly expand. Words will be replacing grunting and pointing. The child will begin to express feelings, thoughts, and actions with oral vocabulary. The teacher and child will understand each other as speech increases. Words will be expanded into sentences. The child will be able to ask and answer questions. Sign language is still used in this department but as language increases, sign language will be decreased. Concentration will be on verbal skills and communication.
Preschool Health
All children will share germs from one another every day and all day. Interaction is required by the staff to be sure everything in the room is sanitized. Every time a child sneezes, coughs, wipes their nose, comes in from outside, goes to eat, or comes back from eating they must wash their hands. Also before and after any food items after diapering hands must be washed. Rooms and carpet are cleaned and sanitized daily and weekly to keep down illness. Also, keeping children at home who are borderline sick helps keep some germs out of the rooms and center.
Schedule A Tour
Please come see why parents from Carmel, Westfield, Indianapolis and Zionsville all love Heartland Hall Child Development Center. Contact us here to arrange your tour.