This is a very exciting year for your child as they are three. Independence is continuing to grow in them. All children have energy that does not stop at this age. Our loving, energetic teachers make Heartland Hall a great place for threes day care love sharing and educating your children all day.
Core Concentrations
Large & Small motor skills
Foreign language - Spanish
Social Studies
Science
Active Exploration
Hands on Math
Early writing Skills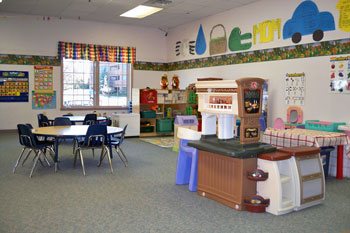 Physical Development for Preschool
Physical development is done all day with three year olds. The children are constantly moving around no matter what activity they are involved in. Movement is enhanced at our day care during gym and outside activities each day. These different activities will focus on different large and small motor skills each day. Organized games are also introduced to the children at this time.
The teachers are showing by example how the children are to behave and how they should be treating their classmates. The teachers are striving to channel the children's independence towards a positive outcome. Respecting teachers and classmates is a major focus throughout the center.
Preschool Learning
The child has a great basis for building sentence structure. Now one foreign language will be introduced to the children. Spanish will be done every day as a part of the curriculum. Writing is also included with a specific goal each day. By using a themed week with a new letter, number, shape, science, math, and animals along with music, art, and gym all children have a well prepared preschool environment each and every day.
Social studies, is also begun in day care for three year olds. Each week a new state will be studied, going through the entire United States. Science is another subject that is started at this age. The children love all aspects of science from animal life to simple static electric experiments.
Social Behavior
In order to help with maintaining calmness among the children, a schedule is very important. There are 20 children in each room with 2 teachers. Each teacher will have 10 children which they will work with throughout the day. All teachers understand that each child is an individual with their own pattern, timing of growth, and development. The teachers are always prepared with concrete learning activities through different prepared materials throughout the day.
Elective Classes
We offer students who wish to try science, sports and artistic activities. We make age appropriate elective classes available for piano, tennis, karate, art and STEM Coding. The fees for these extra classes are very reasonable and are above the regular child care tuition.
Health
All children will share germs from one to another all day. The staff is cleaning all day to keep everything in the room sanitized. Every time a child or staff member sneezes, coughs, wipes a nose, comes in from outside, goes to the restroom, or goes to snack and lunch they will be washing hands. Rooms and carpets in our day care are cleaned and sanitized daily and weekly to keep down the spread of illness. When your child is showing signs of illness it is best for them to stay home to help us to keep down the sickness in our building.
Schedule A Tour
Please come see why parents from Carmel, Westfield, Indianapolis and Zionsville all love Heartland Hall Child Development Center. Contact us here to arrange your tour.