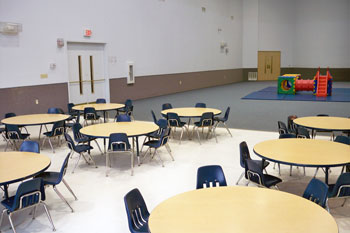 The cafeteria and kitchen are under the direct supervision of our full time cook. The cook oversees the preparation, ordering, and cleanliness of food as well as the serving areas and kitchen. She has received accreditation in food borne illness prevention. Her meals are home-made and the children love her cooking. She also supervises our full time dishwasher. All children two years of age and older are served in the cafeteria for ALL food items. No foods are served in the older classrooms.
We have six weeks of menus posted in all classrooms. Parents may obtain a copy of the menu simply by asking. Any parent brining in a substitute food item for their child must sign a "Safe Transportation of Food" Form. This form will be placed in the child's file with the cook. Any child with a food allergy must be verified with a doctor's note. The food allergies will then be posted in the kitchen with the cook.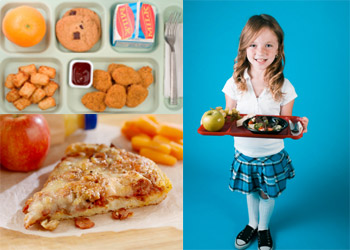 Health
Children during this age will share germs all day. The day care staff is interacting consistently to disinfect toys, tables, and everything the child touches. Hands and faces are washed throughout the day to stop the spread of germs. All children and teachers hands are to be washed before and after presenting foods, wiping noses, coughing, sneezing, outdoor play and before using water tables, and after changing of diapers/ toileting, all children and teachers hands are washed. Dental hygiene begins by brushing teeth every day after lunch. More about our day care health related policies here.
Safety Policies
We are very committed to ensuring the safety of your child daily. We understand the peace of mind a parent needs when entrusting their child to us each day. More about our day care Safety related policies here.
Special Events and Field Trips
We have special events like Goodies with Grandparents, Doughnuts with Dad and Muffins with Mom. Our age appropriate field trips are to places like farms, Lucas Oil Stadium and rock wall climbing. Two of our classes visited the residents at Hoosier Village. They sang songs, passed out treats and shared some cheerfulness with the grandmas and grandpas.
Please come see why parents from Carmel, Westfield, Indianapolis and Zionsville all love Heartland Hall Child Development Center. Contact us here to arrange your tour.